12/2011: NOTE TO ALL PEEPS WHO COME HERE: I haven't edited this post in like.... three years/since I was trying to be ~artistic with the way I formatted it :| so it is obscenely outdated (I'll fix it when I feel like it). Just comment to let me know you're adding me and I'll add you back and that's all you need to know :)
el_em_en_oh_pee
[this journal is friends-locked (except for
random public entries
), unless, by accident, I forget to lock an entry for maybe three minutes or three weeks or something. this has been known to happen before. the rest of my entries
do
have capital letters, I promise. I will add you back if (1)I know you in real life, (2)we're in an RPG together and I've spoken to you before, (3)if you can list three, four ways we're similar/interests we have in common, interests outside of fandom, or (4)if you're really qt on

ontd_glee
:). I do not add random people who like my fics anymore; this journal is mostly about RL. if you can't take the angsting and snarking and random effusing and effervescence, don't bother friending me. despite any animosity I may seem to have, I really do like new friends ;-) also, a note: my policy is, I don't friend you unless you comment here. unless I friended you, first. :\ sorry !]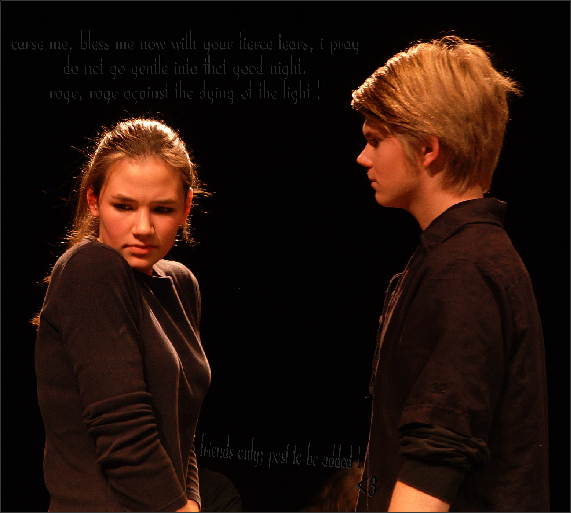 current credits
: current wizards of waverly place moodtheme by

bokayjunkie
. old reese witherspoon moodtheme by

______lemonkiss
. all non-icon images by

el_em_en_oh_pee
and header by

_effervescent
. icons credited in tags (when the source is known). if i'm using an icon of yours, and it isn't credited properly, just let me know !
layout, etc. code from

amavel_bel

milou_veronica
, edited by

el_em_en_oh_pee
moodtheme is of reese witherspoon (*_*). the f.o. banners on profile page and here are of the
warner bros and steven spielburg's
tv series
animaniacs
, the movie
wakko's wish
in particular. quotes come from these shows.
EDIT
: REVERTED TO LAYOUT #2
font used in this journal is georgia; the font in the header is jane austen; the font in the f.o. banners is currently nonexistant.
everything else is... well. everything else ! people just rock like that, in general ;-)
( past layout information, etc )
if you were here for my
fanfiction
,
nanowrimo
,
writing journal
, or
old journal
, they each have their places, and you may find them in said places. friending policies more lax for those. enjoy!